So.. I've been customizing for a while now and I still don't consider myself an expert because with each project I'm consistently gaining experience.
Well, over these years I've had lots of questions asked to me and I thought I'd start a project to help answer those questions by hopefully explaining certain techniques and taking you through the day by day of the processes.
I purposely did things in a certain order because I wanted to show all the flaws and work on presenting the ways that you can fix them. Anytime I made an oopsy, I wanted to show it so that any newbie could see that there's no need to panic and most projects can be salvageable.
Anyways, I have finally been able to put all these pictures and wording together to present to you with a custom I did for my own Christmas present. I've done quite a few DC characters on a MotU buck, but the Marvel Universe has a lot too offer to. Maybe someday I'll have my dream figures created all in scale with each other.
Hopefully until then, these customs will do some justice. I wish...maybe if nothing else, I spring forth the potential and stir up some conversations.
Somethings I use that you are probably going to need are the following:
*Paintbrushes, various sizes (a few fine tip)
*Paint, folk-art, Delta ceramacoat, (these are cheaper and will work but usually doesn't hold up well on joints where friction occurs. Usually superglue or a finish is needed plus prior sanding) Vallejo, Tamiya, model masters, (better quality paint but still will flake at the joints, prior sanding will most certainly help)
*Spray paint, krylon cover master (this will help tremendously on preventing joint-rub. You have to practice with it on a spare figure. Always use in light coats and give plenty of drying time and work the joints. Multiple coats may be needed. Also the spray paint can be used to brush on but drying time is quick.)
*Fabric paint/window paint, Plaid (this is for masking because it will peal right off of plastic.)
*Paint containers, pallet trays are cheap and work for brush paint, recycled lids work fine for spray paint, (ie; peanut butter jar lids, icing/frosting lids, baby food jar lids, pickle jar lids, butter container lids, etc..)
*Toothpicks, these can be used to help sculpt, clean away unwanted materials, scratch away paint, throw at the camera like a bad guy
*Q-tips, combine this with the fingernail polish remover and you can remove paint, residue, or even oils
*Aluminum foil, for masking
*Masking tape, for masking and also making patterns symmetrical
*X-acto knife, for sculpting, for cutting patterns, for removing debris (recommended to use separate blades for sculpting, as the epoxy will gunk up and dull the blade)
*Cutting board, no sense in cutting up the kitchen table, unless you're in Dudleyville...save the furniture. (I sometimes use comic book boards or pizza boxes)
*Index card, for making patterns symmetrical, both sides need to be shiny and resistant to the masking tape (ie; phone cards, pricetags, bubble gum cards, business cards)
*Finger nail polish remover (non acetone), for wiping away or removing paint, for cleaning brushes and hands, also can be used to dilute your paint
*2-part epoxy, Aves fix-it sculpt (I used this because it hardens in 3-4hrs and is harder than Kneadatite or green stuff epoxy putty, but either could be used)
*Spray paint lid, to hold water. (You will need to keep your fingers and tools wet during sculpting with the epoxy so it doesn't stick to everything but the figure)
*Vaseline, this can be put on your blade or tool while sculpting to keep from sticking, also can be used as masking (IE. Making a removable armor, belt or mask) (needs to be wiped off afterwards)
*Shop rags, for cleaning your project, removing paint, cleaning your hands and brushes. (ie; old t-shirts, wash rags, or wash towels)
*Sand paper, 80 (this is the roughest), 120 (smoother), and 600 (smoothest)
**The first thing you really want to do before any customizing is to wash the figure if possible, you don't want the oils from the injection molds interfering in your paint or molding applications. You can use soap and water with a toothbrush and you don't have to submerge it either. Just make sure to rinse carefully with running water and give it a good drying. Towel it, lightly hair dry it, or leave it out for a few hours.**
Day 1
Acquired a bare peekablue really cheap on eBay. I already had a spare Teela Goddess head so I sculpted the epoxy onto the face. (5 mins)
Day 2
I let the epoxy harden for the night (4-5 hrs usually does the trick) I sanded with 120 grade for 5 mins, and 600 for 5 or so mins. Applied foil around the body and sculpted the hood. (5-10 mins)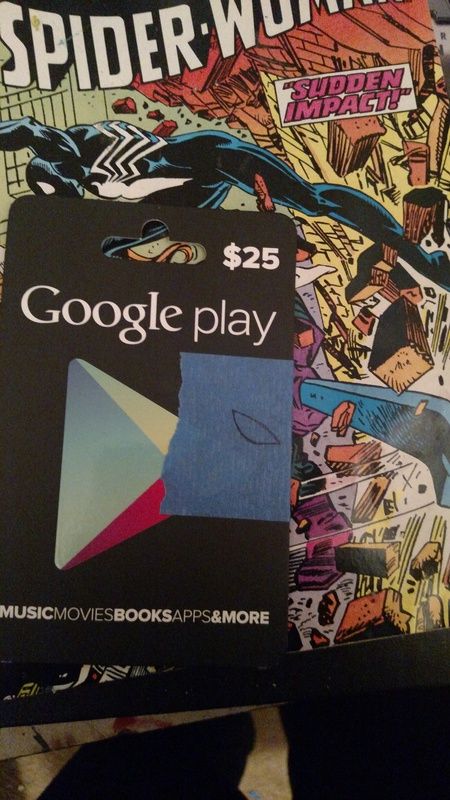 I needed to make the eyes mirrored and symmetrical. An easy cheat I use is to use masking tape. Put it on the edge of a glossy index card, fold it so it's on both sides of the card.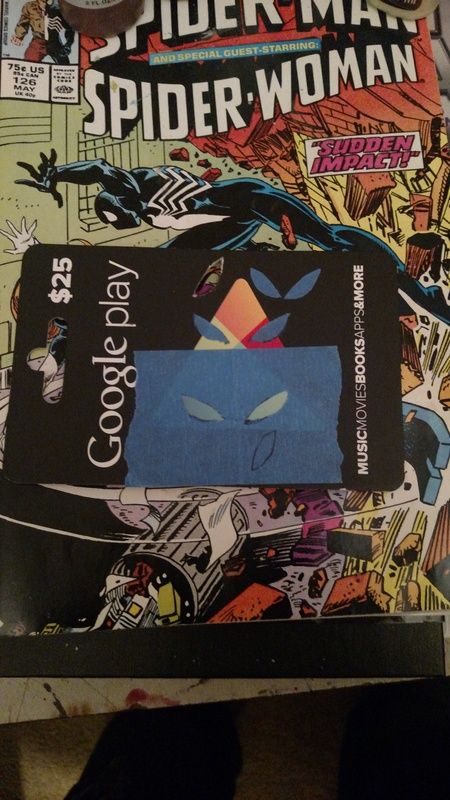 Cut your shape and carefully peel. (Use a sharp blade. If you screw up the reverse stencil or tear any tape trying to remove it, the card is still a double sided stencil that can be reused.)
Day 3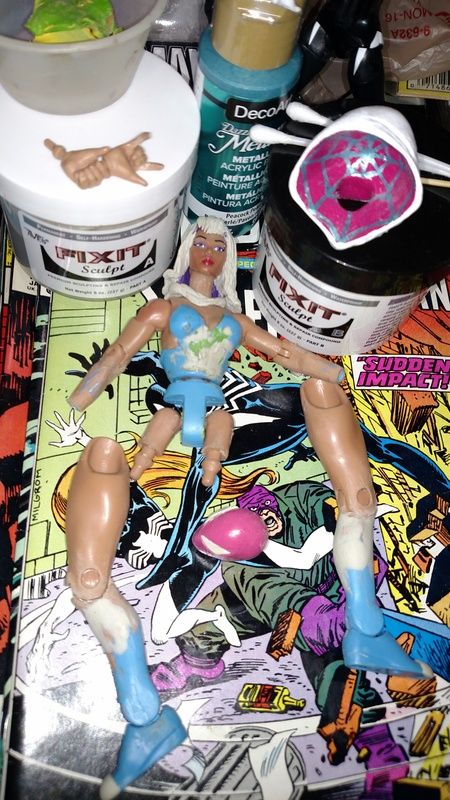 Dremmeled the shins and forearms clean, cut the emblem off the bodice, added epoxy for smoothness. Sanded hood and masked head with 120 grade and 600 grade then painted. Sculpted hair, drawn-down hood, and toes. Painted eyes GITD. Cut fingers apart then superglued to form. (1 1/2hrs.)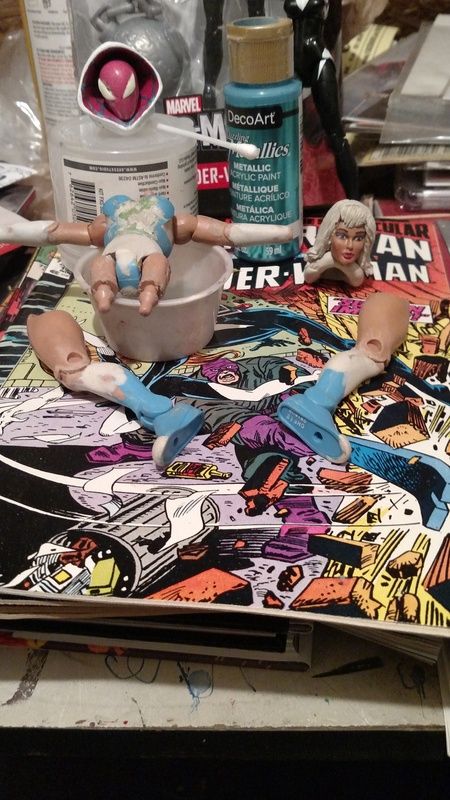 I let everything harden for 4 hrs then I sanded with 120 grade and 600 grade. After that, I epoxied the crotch and forearms. **I left a notch as a marker so I could build out later after that layer hardened. This method keeps the material sturdy or solid and less flimsy. You can always sand down if needed to** (20 mins)
Day 4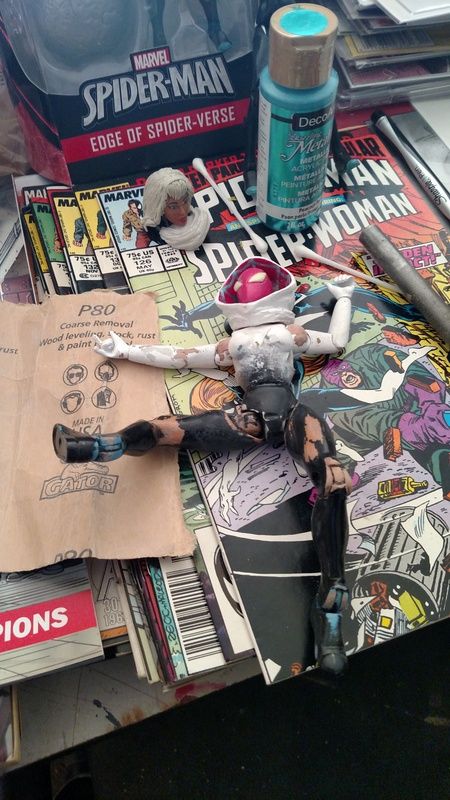 I painted her the first coat and let it dry for an hour, then sanded every joint with the dremmel and also 80 grade, then finished with 120 grade. (30 mins)
***NOTE***
Normally, you would want to sculpt everything, then sand, then paint but I wanted to show what you would want to aim for.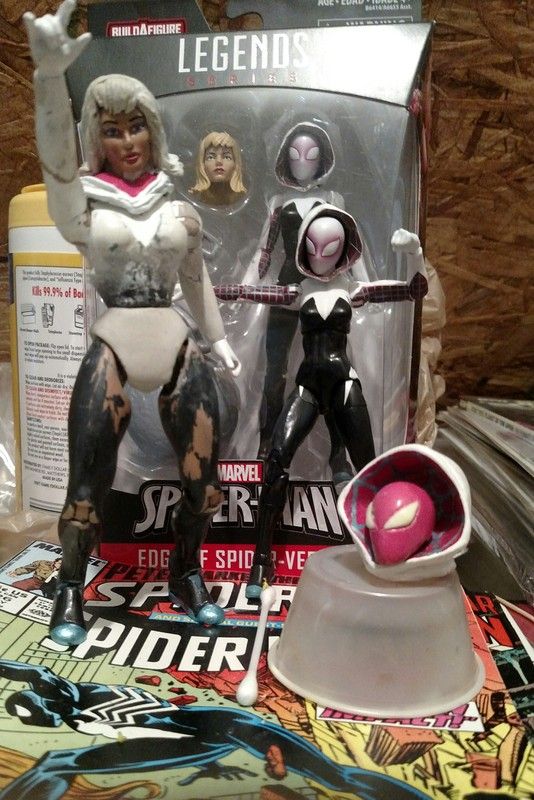 Painted the toes and heels. Sculpted the crotch with more epoxy to build it out to form. Let it set for four hrs then sanded with 120 grade and 600 grade. (30 mins)
Day 5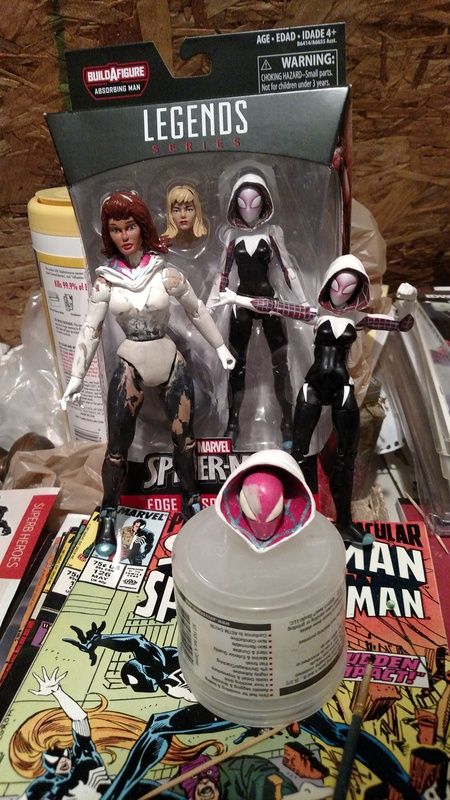 Painted hair brown, painted drawn-down hood, patched masked head with epoxy. (20 mins)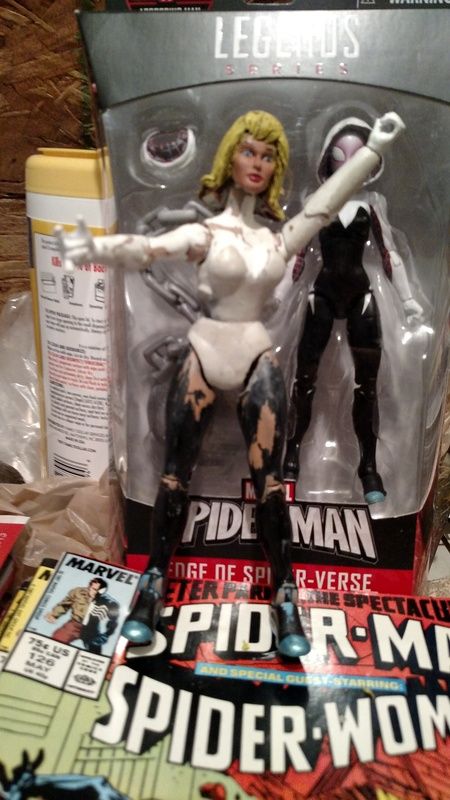 Drybrushed hair with yellow. Epoxied the bodice a little more, then let set for 4hrs and sanded with 120 grade and 600 grade. (30 mins)