Jeremy Colwell is the colorist on the new He-Man/Thundercats comic book series from DC Comics. Jeremy has shared with us a video that gives a detailed view of his coloring technique on issue #1 of this exciting comic book series.



This was one of the first pages I did for the new He-Man/Thundercats book put out by DC Comics and Mattel so there is a bit of adjustment and finding my groove on it. Fortunately, Freddie Williams and I have worked together recently in a similar style in the Batman/TMNT crossover series so I had much of the technique down and just had to focus on the palette and feel for the book. He-Man and Thundercats are brighter and more saturated than Batman and the Turtles. I heavily referenced the TV shows and toy lines to attempt to stay as true to the source material as I could.
Let me talk a bit about the coloring process I use in this video. Freddie works in an ink wash style so it is all shades of grey and not just black and white like traditional comic art. Using a Photoshop Action that I got from Hi-Fi, I create a layer of just Freddie's art that is transparent to the colors of layers below it. I send that of to my assistant who flats the page. Flatting is the process of breaking down the objects drawn into color shapes on a layer so I can select them easily when I render them. This is where the video starts, after I have the flats back.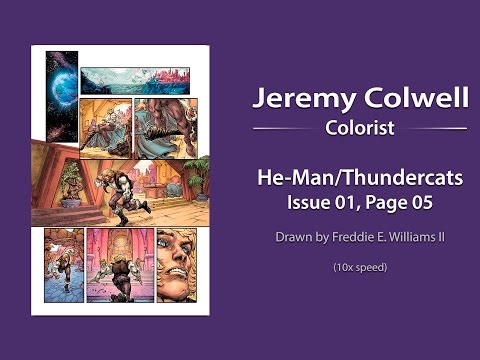 Freddie had a specific look he wanted when we did Batman/TMNT with a white 'halo' around objects of importance. It helps visually highlight them for the reader. In the video that is what I start off doing. Once everything is haloed, I pull up my ref images and get to the rendering—the modeling of forms using light and shadow, cool and warm, etc. That's most of the labor of the page, but one of the benefits of Freddie's wash style is that a lot of the value work is done for me and I just have to queue off what he's already done. I bounce around the page doing all of one object if I can to try to keep it consistent brushing in areas like I'm a painter.

After the base rendering is done I go back and add more atmosphere and lighting to the page as well as some glow effects (like on the planet Eternia panel) with adjustment layers above and below the line art. At the end I fiddle around with some general values stuff that bugs me, do some minor touchups and tweaks and send it off to Freddie for his thoughts. On this one he had the good idea of warming up the bedroom so that what all those yellow adjustment blocks of color are towards the end. He's always got my back.

Thanks again for watching the video and for all the great support from the HeManWorld.com folks. I am very proud to have a part in adding to the legends of these beloved heroes!

Jeremy Colwell